Peach season is in full swing and it is still very warm in Southern Ontario…. Hmm, what to make?  Well of coarse, Peaches and "Cream" Ice Cream!!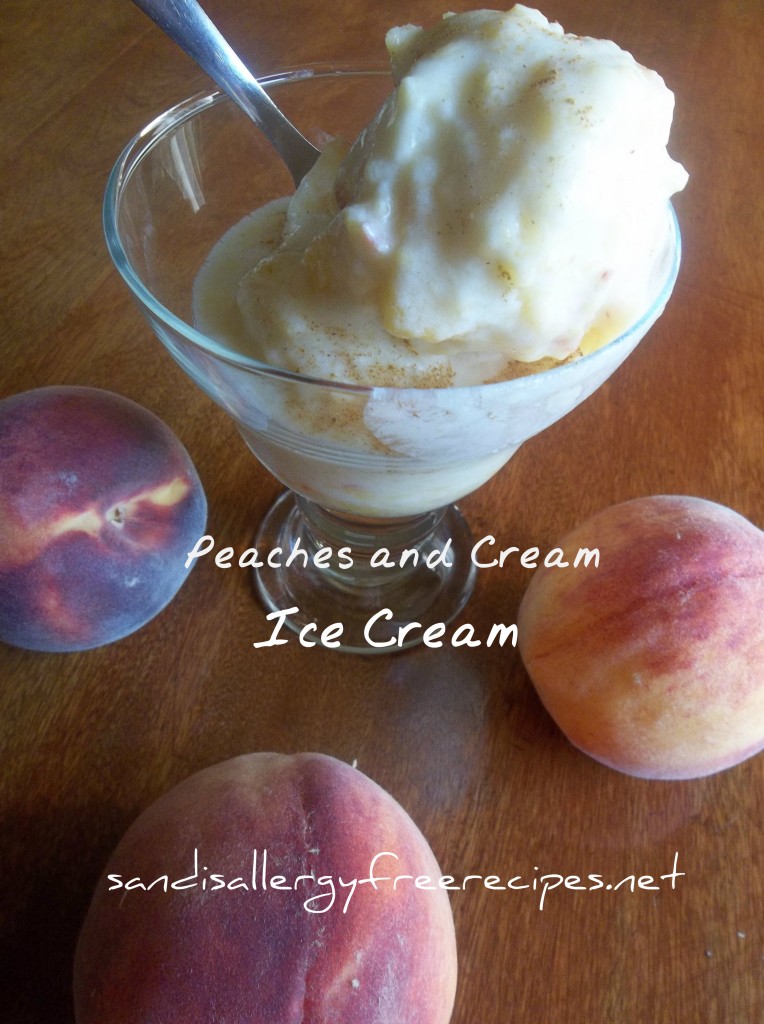 Peaches and "Cream" Ice Cream  (Paleo/ Dairy Free/ Refined Sugar Free/ Gluten Free/ Vegan Option)
1- 400 ml. can of high fat coconut milk
3 c. sliced peaches (reserve 1/2 c. if you would like chunky ice cream)
1/4- 1/3 c. honey- depending on desired sweetness (maple syrup for vegan)
2  tsp. vanilla
2 tsp. ground cinnamon (optional)
Refrigerate the can of coconut milk overnight. (No you can't skip this step- believe me, I have tried)
Place all ingredients into food processor or blender, except the reserved peaches.Blend until pureed.
Then blend mixture in frozen ice cream maker ** for twenty minutes. Just before time is up add an additional 1/2 c. of cup up fruit.Will be consistency of soft ice cream.  For convenience, I put into small individual containers and freeze. When you want to eat the ice cream, take a container out of the freezer for 10-15 minutes to soften.
**If you don't have an ice cream maker put bowl of mixture into the freezer and stir every thirty minutes for a few hours,.
For more great ice cream recipes why not try Chocolate Chunk Ice Cream, Vanilla Ice Cream or Strawberry Ice Cream. In and Out of the Kitchen, Tasty Tuesday
Shared On: Gluten Free Round Up , Make Your Own Monday, 5 Ingredient Mondays, Home and Garden Hop, Slightly Indulgent Tuesday, Traditional Tuesdays, Gluten Free Tuesday, Waste Not Want Not, Gluten Free Wednesdays, Allergy free Wednesday, Healthy 2Day Wednesday, Tasty Traditions, Gluten Free Fridays, Whole Foods Friday, Wellness Weekend, Real Foods Friday, Foodie Friends Friday, Swap N' Share, Food on Friday, Raw Foods Thursday